move-in cleaning services palatine
Moving… a fresh start, a new and exciting journey, a great change and an enormous household task too! Moving-in is a new chapter in one's life, it is a drastic change, a huge decision to make. You pack your belongings and organize your things, it could really be time consuming and frustrating especially when you are seeing that you are not making progress on your packing and you realize you own a lot of things. Moving could also be a way to organize your things, start anew, dispose stuff that you no longer need. Some are obliged to move for work or family matters while some would like to have a fresh home and a fresh start.
Not like other companies who offer a fixed fee for a move in clean, we at Move-In Cleaning Services Palatine, we can customize according to your home cleaning needs. Pick an extra service that you think you would need instead of paying fixed price for something that you will not utilize. Here are the extra services that we offer. If there's something you'd like us to focus on, or extra task that you would like our cleaner to do, just let us know and we can create a custom clean especially tailored for you!
you may customize your cleaning appointment according to what you really need, no fixed packages, save more!
STEP 1: BOOK YOUR move in cleaning service
Booking a service has never been this easy. With numerous ways to reserve, we are available through chat, call, text, email and even book online, name it, Sparkly Maid has it. Schedule a move-in cleaning service in no time! Just let us know the service location, time and date you wish to have the service and we will surely assist you with a service quote and secure a booking that works to your convenience!

STEP 2: 100% move in CLEANING GUARANTEED
A professional cleaner shows up and cleans your home according to your special requests and cleaning needs. It sure is wonderful to walk in a perfectly spotless and clean smelling new home after all the hassle and struggles of packing and procrastinating on your move. Our highly experienced cleaners are truly knowledgeable and well trained, you are sure to enjoy a clean and beautiful home.

STEP 3:
ENJOY stress free move-in
Isn't is amazing when you know the place that you will be moving in to a clean home. Our hired professionals will definitely ensure an immaculate cleaning job, making sure that they reach industry standards because we understand that moving is a
Having a new home is fun and exciting. You now have a chance to start anew, be more organized with your belongings, you may start to be a minimalist like you've always wanted. Enjoy your clean and fresh new home. When moving in, we highly suggest this two service extras, the deep cleaning service and the heavy-duty cleaning service.
To guide you on what service would perfectly fit your move-in needs, here is how we describe our deep clean and heavy-duty clean. Read more below ↓
move in Deep Cleaning Service
You moved to a new house, of course you would like to move to a house which is clean, sanitized and ready for it's new owners. Letting go of the old house could also be sad since you've developed daily routine and got at ease with it, but moving to a new home means a fresh start. Before you move, deep cleaning must be considered. When your home is newly constructed or just got vacated by the former family, of course it will have a lot of dust and dirt. Consider a deep clean so that the following cleanings will be much more easier and maintainable. Move In Cleaning Services Palatine will bring back the gleam of your kitchen floors and bathrooms. Deep cleaning entails heavy duty scrubbing of your bathrooms and kitchen floors. This is our more detailed clean that will surely make any house sparkle again. We will try harder to remove bathroom molds and grime and will use all our effective products to do the task however this is not part of our promise. A more serious case we suggest you hire a Tile and Grout Cleaning Services. Since a deep clean involves more time and more products to use, this falls under our extra services category. Book our services now!
move in Heavy Duty Cleaning Service
Moving-in could really be tedious and busy. We can help you get your new home in shape. Before moving your furniture and belongings, we suggest to have a heavy duty clean. This is our most detailed clean where our maids will ensure that the place will be spotless clean. This is a must when the property you are moving at has been abandoned for a long time or heavily soiled. Our well trained experts does a thorough and professional clean. Heavy grease and bathroom situations are our cleaner's specialty. Our well-experienced cleaners never leave until they make the house look spotless and immaculately clean. Since a heavy-duty clean requires more time to accomplish and more cleaning supplies and solutions to use, this falls on our extra services category. Book our services now!
Meet Your Professional Maid
✓ 100% Satisfaction Guaranteed
✓ Professional and Efficient
✓ Same Cleaner You Know and Love Every Regularly Scheduled Visit
✓ All Cleaning Supplies Included
✓ Highly Reviewed By Hundreds Before You
✓ 100% Move In Cleaning Guaranteed
the fruit of our hardwork
99% of Our Customers Would Recommend Us To Friends and Family
With Our Cleaner Rating System, We Ensure That The Quality Of Work Never Depreciate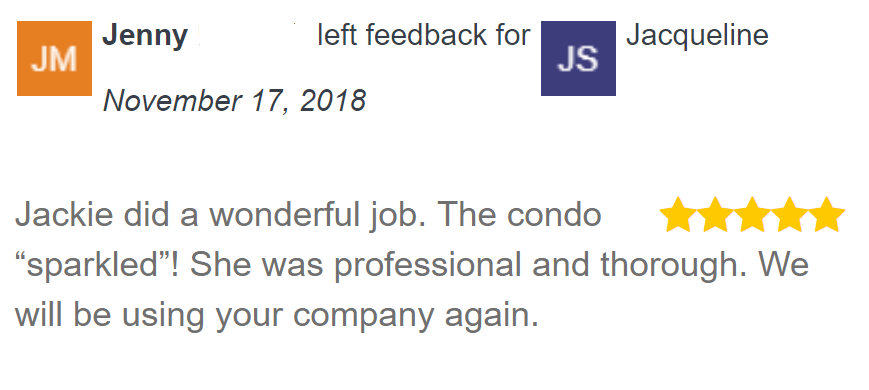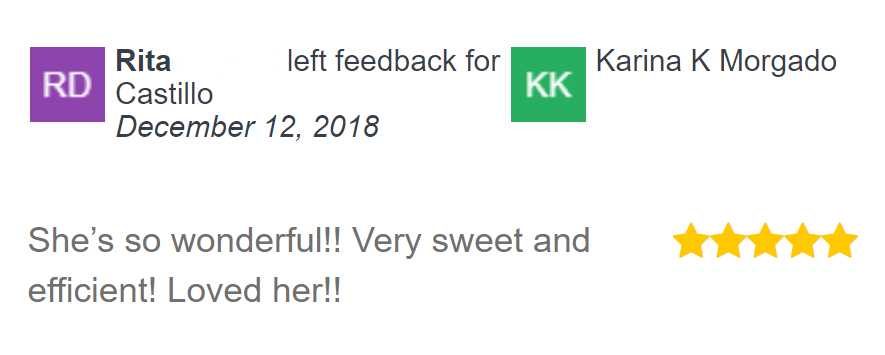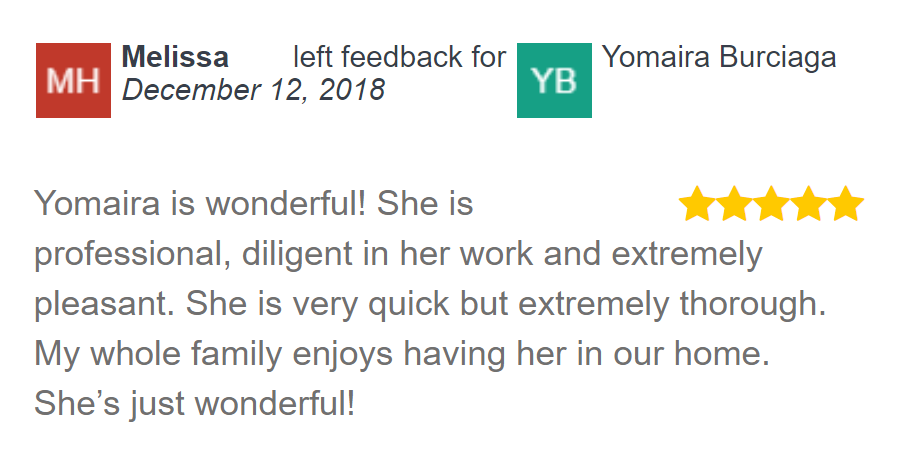 how moving in can be more fun, less stressful!
Set Your Move Strategy. Moving in is tough and hectic. You should first hand plan which goes first and what should be set as your priority. Set your date and schedule services involved accordingly. Having a checklist could also be helpful to stay organized to make sure nothing gets missed and forgotten. Buy or organize a moving kit that includes your markers and labels. Have color coded tapes to seal your boxes and organize things by category.
Organize Your Move Out in Advance. You should pack your belongings as early as possible. Since you have your move date probably planned, you can also arrange the services you will hire with regards to your move, this could be a painter or repair man for your walls or floors, a maid service for cleaning the house you will vacate, a plumber or electrician if there are problems with utilities or your movers to transport your things to the new home. If you rely on your relatives and friends to help you on your move, you can also arrange and call them in advance to let them know about the schedule and so they can also make themselves free. By this way, you can avoid leaving important things behind and this ensures that the moving in day runs smoothly. Keeping an organized plan can help you move stress-free and hiring professional services also makes it easier, faster and tasks are done perfectly and flawlessly. Avoid having to repeat a job when you hire a professional to do the tasks, it will help you save more too!
Make Your Move in An Opportunity to Purge. Moving is a great chance to organize your possessions and clear of objects you do not need. You may donate, dispose or if you have ample time, you can conduct a garage sale and earn some money for a starting anew.
Get a Cleaning Schedule Before You Move. Having a thorough clean before moving in makes a fresh and clean start to a new home. It sets a positive vibe and creates a healthy feeling when you smell a nice and clean home. You feel a sense of inspiration and motivation for your new career or neighborhood. Remember that when your heavy furniture is moved to your new home, it will most likely be difficult to clean under it, so make sure to do a thorough clean before placing them inside the house. A professional maid service can make your move faster and more efficient.

Renovate, Paint, Repair Before the Moving Day. Before moving, make sure to do all repairs or renovation so that there will be no obstructions on the way. No heavy furniture to move, no rugs to get spills or debris at. It's always better to have this construction related concerns to be addressed before your belongings are moved to the new house.
Label Your Things. Since you cannot see through the boxes you packed it's best that there are labels to know if the items are breakable or can withstand pressure for the movers to know which ones need extra care in handling. This will also help you unpack during the moving day. When everything is labelled, those with the label "kitchen" could be placed at the kitchen area right away, those labelled "bathrooms" can be brought to the bathroom too. It makes settling in easier and faster.
Hook Up Utilities and Services
Make sure to double check the services such as electricity, gas, water supply and that the names on the utility bills are already transferred to you as well. Ensure everything is working and if anything needs to be repaired, have it arranged as soon as possible.
Have Fun. Unpack with your family or seek help from friends. Decorate and bring out your creativity in setting up your home. Customize your bedrooms according to your personality. Make your new home a happy place to live in. Own it and attract positivity. Give you home an amazing and welcoming vibe. Don't be afraid to entertain visitors, set a welcome party if you would like. Keep your home regularly clean to maintain its fragrant smell. A regular clean makes your home inviting and happy place to come home at after a long day. Hire a maid service that you schedule weekly, bi-weekly, every two weeks or monthly. Enjoy your clean and new home!
Schedule Your move in Cleaning In 55 Seconds!
our general cleaning checklist
Bathroom Cleaning Checklist
Scrub and Disinfect Sinks
Scrub and Disinfect Toilets and Bathtubs

Clean Shower Areas

Clean Mirrors

Clean Bathroom Floors

Clean Exteriors of Cabinets and Drawer

Empty Trash Cans
Cleaning and Scrubbing of the Sink
Load Dishes to the Dishwasher

Cleaning of Stove-top

Clean Kitchen Floors

Wipe Down Exteriors of Cabinets and Drawers

Wipe Down Exterior of Dishwasher, Fridge and Oven

Empty Trash Bins

Clean Interior and Exterior of Microwave
KITCHEN CLEANING CHECKLIST
BEDROOM CLEANING CHECKLIST
Make Bed

Change Linens (If requested)

Clean Accessible Surfaces

Take Out Trash

Clean Table Tops

Vacuum Floors, Carpets and Rugs
Let us know your home cleaning needs and we will provide you with a perfect quote that fits your requests and budget. Don't hesitate to call us at (224) 214-0145 or email us at support@sparklymaid.com for a free quote.
SPARKLY MAID
MOVE in cleaning services palatine
Office Hours
Mon: 7:00AM - 8:00PM
Tue: 7:00AM - 8:00PM
Wed: 7:00AM - 8:00PM
Thu: 7:00AM - 8:00PM
Fri: 7:00AM - 8:00PM
Sat: 7:00AM - 7:00PM
Sun: 7:00AM - 7:00PM
THINGS TO CONSIDER BEFORE SCHEDULING YOUR
Move in cleaning service
What is the square footage of the home that needs to be cleaned?

How many bedrooms and bathrooms does the unit have?

How soon do I need the cleaning services?

What are the areas I would like the cleaners to focus on?

What do I need to prepare for my cleaning appointment?
Let us be your move in cleaning partner

BOOK YOUR MOVE IN CLEANING SERVICE TODAY!
Regular House Cleaning Services

Duplex Home Cleaning Services

Multi-Unit Home Cleaning Services

Condo Cleaning Services

Studio Apartment Cleaning Services

Townhouse Cleaning Services

Bungalow House Cleaning Services

Ranch Home Cleaning Services
Post-Construction Cleaning Services

Post-Renovation Cleaning Services

Deep Cleaning Services

Home Organization Services

Rental Property Cleanup

Turnover Cleaning Services
palatine, il
60038, 60055, 60067,60074, 60078, 60094, 60095
OUR REPUTATION - SPOTLESS