move-out cleaning services palatine
Moving out is such a big transition in life. Moving out from a house that you have been most of your life could be a drastic change. A new house could mean a new life as well. Of course you would like to start a life in your new home without worrying about the old home plus you can get to enjoy the security deposit fully if your landlord sees that you've taken care of the property so well and you may use this for your expenses on your upcoming move which is really awesome, right? Moving out could be stress-free especially when you have a cleaning partner that you can count on. When security bond is at stake you would surely go for the best so there will be no room for deductions from your landlord. We offer a custom clean for you. What sets us apart from other cleaning services is that you may book a cleaning service customized for what you really need for the property.
Not like other companies who offer a fixed fee for a move out clean, we at Move-Out Cleaning Services Palatine, we can customize according to your home cleaning needs. Pick an extra service that you think you would need instead of paying fixed price for something that you think was well maintained and clean while you were occupying the property. Here are the extra services that we offer. If there's something you'd like us to focus on, or extra task that you would like our cleaner to do, just let us know and we can create a custom clean especially tailored for you!
you may customize your cleaning appointment according to what you really need, no fixed packages, save more!
STEP 1: BOOK YOUR move out cleaning service
Booking a service has never been this easy. With numerous ways to reserve, we are available through chat, call, text, email and even book online, name it, Sparkly Maid has it. Schedule a green cleaning service in no time! Just let us know the service location, time and date you wish to have the service and we will surely assist you with a service quote and secure a booking that works to your convenience!

STEP 2: 100% move out CLEANING GUARANTEED
A professional cleaner shows up and cleans your green according to your special requests and cleaning needs. It sure is wonderful to walk in a perfectly spotless and clean smelling home after a long tiring day from work or day out. Our highly experienced cleaners are truly knowledgeable and well trained, you are sure to enjoy a clean and beautiful home.

STEP 3:
ENJOY stress free move out
Isn't is amazing when you know the place that you will be moving out from will be clean. Our hired professionals will definitely ensure an immaculate cleaning job, making sure that they reach industry standards because we understand that a thorough clean is needed especially when security deposits are at stake when moving out.
When moving out, we highly suggest this two service extras, the deep cleaning service and the heavy-duty cleaning service. Imagine living in a home for a span of time, of course all the dirt has stayed inside the home too especially in hard to reach areas where most of your heavy furniture has been placed. When you move out, it is the perfect time to perform the most thorough clean. Deep Cleaning and Heavy Duty Cleaning ensures that the place that you will vacate will be spotless clean and will not give any reasons for your landlord to deduct from your security bond.
To guide you on what service would perfectly fit your move-out needs, here is how we describe our deep clean and heavy-duty clean.
Deep Cleaning Service
When was the last time your home was cleaned? Have you been so busy with your daily routine that cleaning has not been part of your priorities? Well, we are here to help you bring back that neat house the way it was before you moved in and the way your landlord wants it. Move-Out Cleaning Services Palatine will bring back the gleam of your kitchen floors and bathrooms. Have that fresh looking house again. Deep cleaning entails heavy duty scrubbing of your bathrooms and kitchen floors. This is our more detailed clean that will surely make any house sparkle again. Your heavy furniture that has been sitting there for a long time have also collected a lot of dirt under it and will definitely need a more thorough clean. We will try harder to remove bathroom molds and grime and will use all our effective products to do the task however this is not part of our promise. A more serious case we suggest you hire a Tile and Grout Cleaning Services. Since this cleaning involves more time and more products to use, this falls under our extra services category. Book our services now!
Heavy Duty Cleaning Service
Moving-out could really be tedious and busy. You already signed all papers, packed your belongings, getting your new home ready for your move but you realize you just need to leave your old home spotless clean too. Yes, your home is a reflection of yourself, even if you are moving out, you still got to make a good impression besides the fact that you have responsibilities to fulfill for your old home especially when a security bond is at stake. If you are the type of person who did not have time to clean regularly, and your kitchen and bathrooms and all parts of the house are all heavily soiled, therefore, a heavy-duty clean is what you will need. Our well-experienced cleaners never leave until they make the house look spotless and immaculately clean. Since this cleaning involves more time and more products to use, this falls under our extra services category. Book our services now!
Meet Your Professional Maid
✓ 100% Satisfaction Guaranteed
✓ Professional and Efficient
✓ Same Cleaner You Know and Love Every Regularly Scheduled Visit
✓ All Cleaning Supplies Included
✓ Highly Reviewed By Hundreds Before You
✓ 100% Move Out Cleaning Guaranteed
FREQUENTLY ASKED QUESTIONS WHEN BOOKING A MOVE OUT CLEANING SERVICE
How much is your Move-Out package?
We do not offer a fixed move-out package for our clients, we let them customize the cleaning service for their move-out cleaning needs. Our pricing starts from the base price or our flat rate fee, then you have an option to choose your add on services. These are the extra tasks that you think the house needs focus on like for example deep cleaning and heavy-duty cleaning on bathroom and kitchen areas of the property. You can get to decide and assess your home and what you think it needs attention to. You can save on having a customized cleaning service order than booking a fixed package offer.
What do I need to prepare for my move out cleaning?
If there will be movers to take out your belongings, the move out cleaning appointment should be scheduled after the movers are done with their task so that our cleaners could maximize their cleaning time and the movers would not be in the way of our cleaner in making the property clean and spotless. If movers will be present in the day and time of the cleaning, cleaning the floors would be useless since the movers will be walking on them back and forth while taking out your furniture and things.
How many cleaners will you be sending?
The number of cleaners would depend on the size of the property, the extras that are needed to be accomplished, the time the service needs to be completed and the available cleaners that we have. No matter how many cleaners we send, we make sure that they will not leave until the service is fully accomplished and completed. Our standards if your satisfaction!
Do you bring your own cleaning supplies?
Yes, our team is equipped with their own cleaning supplies and solution however not all our cleaners bring their own vacuum cleaner since some of our team members are only using public transportation so it's best if you would mention upon booking that our team needs to bring a vacuum so we can assign a cleaner that is equipped with it.
the fruit of our hardwork
99% of Our Customers Would Recommend Us To Friends and Family
With Our Cleaner Rating System, We Ensure That The Quality Of Work Never Depreciate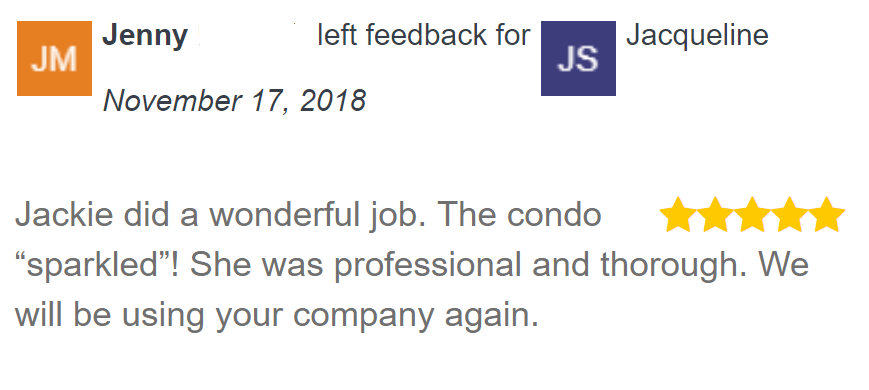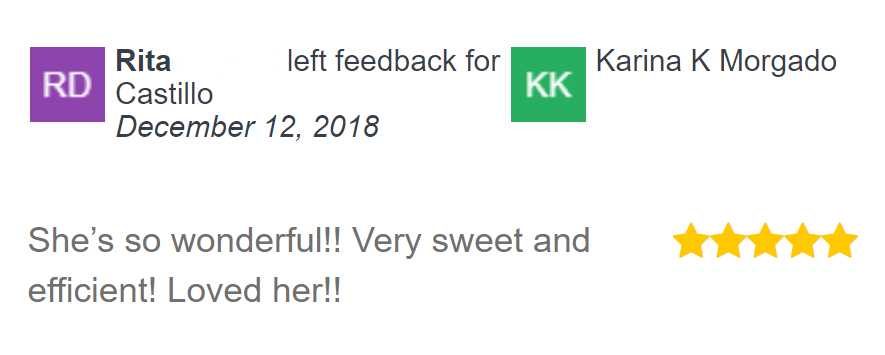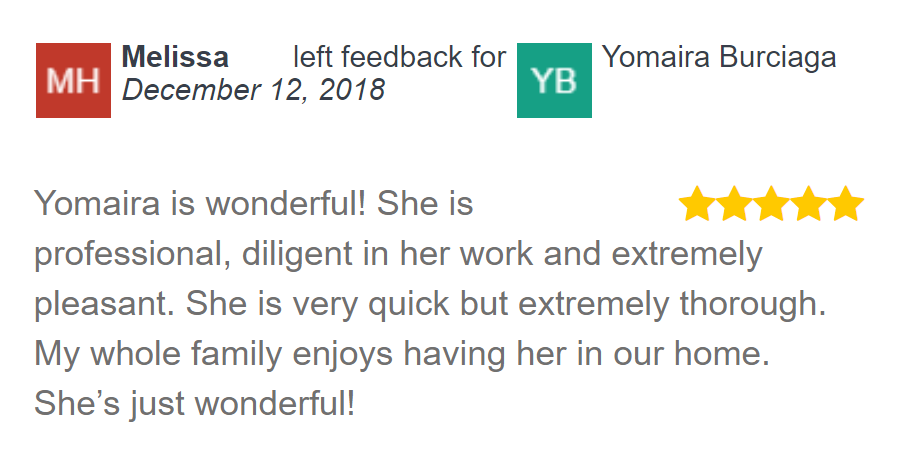 Tips before scheduling a move out cleaning service
Because we care for you and your upcoming move, here are some tips we prepared for you before you schedule a move out clean to ensure that your move goes on smoothly.
A move out clean might really be more expensive than a regular clean, of course you would like to make most of the cleaning and ensure that there will be no room for problems on the day of the appointment.
Manage your Stuff. You know your stuff well. Manage and organize which are for keeping and which ones are for disposal. The people you hire might accidentally throw things which are still valuable so it's best that you do decluttering yourself before the cleaning appointment. It will also help if you are able to place them in the new home that you are moving to.
Clear Clutter. Our cleaners would love to help you with the cleaning tasks but then again, they would not know which ones are for disposal and which ones are for keeping. It would always be a fresh start when you are all clutter free and it also brings a good vibe to the home environment knowing that the house is all fresh and clean and only important things are brought to the new home. Dispose and donate those things that you do not need.
Double Check Utilities and Appliances. Check the lines of water, electricity and gas systems to check if it is still working. If not, have the maintenance know so it can be fixed before you move
Patch and Paint. Repair holes in the walls and paint it. To ensure that you will get your security deposit back, any damages should be repaired.
Paint before Cleaning. If you are thinking about repainting the house that you will vacate, it should be done prior to the cleaning schedule because there will be post painting trash or dirt that might affect the final appearance of the house when it's up to the approval of the landlord.
Remove Decors and Artwork. You should remove the decors like artworks, photo frames, and any decors that were not present in the house when you first moved in.
Check if Cleaning Supplies Are Provided. Before booking any cleaning service company, check if they bring their own cleaning supplies. Some companies charge extra for cleaning supplies and bringing a vacuum cleaner. Find reliable and efficient cleaners who would leave your home spotless. Ensure that you are hiring licensed, bonded and insured cleaners.
Schedule Your move out Cleaning In 55 Seconds!
Bathroom Cleaning Checklist
Scrub and Disinfect Sinks
Scrub and Disinfect Toilets and Bathtubs

Clean Shower Areas

Clean Mirrors

Clean Bathroom Floors

Clean Exteriors of Cabinets and Drawer

Empty Trash Cans
Cleaning and Scrubbing of the Sink
Load Dishes to the Dishwasher

Cleaning of Stove-top

Clean Kitchen Floors

Wipe Down Exteriors of Cabinets and Drawers

Wipe Down Exterior of Dishwasher, Fridge and Oven

Empty Trash Bins

Clean Interior and Exterior of Microwave
KITCHEN CLEANING CHECKLIST
BEDROOM CLEANING CHECKLIST
Make Bed

Change Linens (If requested)

Clean Accessible Surfaces

Take Out Trash

Clean Table Tops

Vacuum Floors, Carpets and Rugs
Let us know your home cleaning needs and we will provide you with a perfect quote that fits your requests and budget. Don't hesitate to call us at (224) 214-0145 or email us at support@sparklymaid.com for a free quote.
SPARKLY MAID
MOVE OUT cleaning services palatine
Office Hours
Mon: 7:00AM - 8:00PM
Tue: 7:00AM - 8:00PM
Wed: 7:00AM - 8:00PM
Thu: 7:00AM - 8:00PM
Fri: 7:00AM - 8:00PM
Sat: 7:00AM - 7:00PM
Sun: 7:00AM - 7:00PM
THINGS TO CONSIDER BEFORE SCHEDULING YOUR
Move out cleaning service
What is the square footage of the home that needs to be cleaned?

How many bedrooms and bathrooms does the unit have?

How soon do I need the cleaning services?

What are the areas I would like the cleaners to focus on?

What do I need to prepare for my cleaning appointment?
Let us be your move out cleaning partner

BOOK YOUR MOVE OUT CLEANING SERVICE TODAY!
Regular House Cleaning Services

Duplex Home Cleaning Services

Multi-Unit Home Cleaning Services

Condo Cleaning Services

Studio Apartment Cleaning Services

Townhouse Cleaning Services

Bungalow House Cleaning Services

Ranch Home Cleaning Services
Post-Construction Cleaning Services

Post-Renovation Cleaning Services

Deep Cleaning Services

Home Organization Services

Rental Property Cleanup

Turnover Cleaning Services
palatine, il
60038, 60055, 60067,60074, 60078, 60094, 60095
OUR REPUTATION - SPOTLESS